Description
Airless system for intervalled application of runny liquids from a distance without the addition of air.
Main application range:
External MQL in simple, metal-cutting and chipless forming operations.
Operating principle:
The liquid flows out of the reservoir into the piston chamber. The piston is accelerated by means of a compressed air impulse and shoots the liquid at high pressure through the nozzle.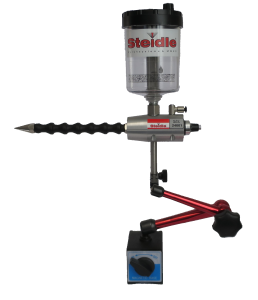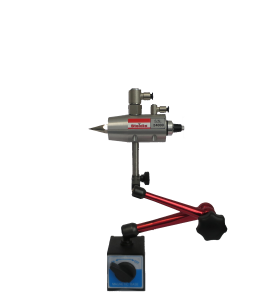 Version: P35/1-Y03-GLV-SH4                              Version: P35/1- -V-SH4
Adjustability
Quantity of liquid (manual) at the PMC dial


Optional: Pressure of piston actuation air (manual)


Switch on/off using actuation control drive (electric, pneumatic or manual)

Technical Data
Term
Figure 
Unit
Operating pressure
3 - 8
 bar
Max. dosage quantety
0.06* for P35/1
0.12* for P35/1(4DF)
ml/h per stroke
Lubricoolant
Lubrimax® and others 
Recommended viscosity
1 - 50**  
 mm²/s (at 40°C)
Max. distance
750* 
 mm
Dimensions
WØxL
Unit
Base unit (without reservoir)
P35/1-...-V
Ø 40 x 135
mm
Base unit (without reservoir)
P35/1-...-GLV
Ø 40 x 270
mm
* maximum values refer to water as fluid
** depending on application, operating pressure, fluid and dosage quantety
Equipment: Base/Base addition
Equipment: Reservoir
(from 0.33 to 27 litres available)
Equipment: Drive
(electric, pneumatic or pedal-operated option)
Equipment: Options
Stand with switchable block magnet (55x50x80) or round magnet Ø80 and with articulated bar (Lmax=250).
Pressure reducing valve including manometer for improved regulation of spray distance and profile.